Pete was a SVLSRM member for over 10 years and had served as Club president. He was a very hard worker for the club.
There will be services at St. Marks Lutheran Church on March 18th at 3:30pm
We still need help to finish the track replacement before our first public run day. We have been slowed by the loss of our tractor which was stolen from locked container. The tractor was a 1951 Fergerson red/orange in color, has front loader. If you see it then please call the Rancho Cordova Police. We are offering a $1000 reward for its reutrn in same condition as taken.
Please note we are scheduling every Saturday during the month of January and February a workday. We are replacing 440 feet of track/roadbed so your help is needed. There are other projects for those that prefer something different.
January membership meeting is canceled.
Stay tuned for new location for February.
Dennis Gramith as Vice President.
Amy Lutrel as Membership Chairperson.
Paul Skidmore as Safety Chairperson.
---
---
January 1, 2012 is our annual members run day. Start the year with lots of steam!
Bring your train and ride the rails. Bring a pot-luck lunch to share.
---
---
Join us at the Colfax Railroad Days October 1 & 2. SVLS will have its steamer running on our portable track near the community center. The Western Pacific Railroad Museum will have a collection of historic rolling stock for public tour. Historic and Documentary films, Motor car rides and other exhibits.
---
---
---
---
Notice:
July Membership meeting changed to be at the track on Sunday July 17 at 12:30.
This day is also our Member run day (all day) so bring your train and ride the rails. This is a good time to bring your new projects to show. Please join us for a pot luck lunch too.
---
---
Notice: The June board meeting is changed to June 21.
---
---
Memorial Day Open House in Modesto
We at the Break Time Railroad in Modesto (est. 1989) are having an open house on Memorial Day weekend, Saturday and Sunday, May 28/29. We have almost a real mile of 7.5" gauge track and you (with or without your train) would be most welcome to join us. Here's a map to our pike:
http://tinyurl.com/27bvvbk
, and here's a link to pictures on Photobucket:
http://tinyurl.com/2eprse3
.
If you have any questions, please contact Mark Spencer at mark@jellofish.net or 209 522-5125 (home) or 209 681-5223 (cell).
Thanks, we hope you can come!
---
---
The Pacific Regional Meet May 20-22
For details on Regional meet and the CSRM tour please contact Matt Mason (916) 812-0055
Please do not contact the State Railroad Museum about the tour as Matt is the point of contact.
Special SVLSRM memorial dedication will be at 3pm.
RV parking and Dinner reservations please call Clio Geyer (916) 645-9154
Bring your engine and join us for several days of running trains.
Day and night running.
Raffle.
Consignment table.
Seminars.
BBQ.
Breakfast (Sat. & Sun.)
Lunches
Dinner (Friday $5., Saturday $12.50)
See you at the track.
The CSRM shop tour is on Sunday at 2 p.m. It will be led by Al DiPaolo, CMO of the Railroad Museum. It is limited to 30 people, but there is no charge
for it
if you are coming for the meet (usually there is a $15+ charge for tickets for this kind of tour).
For those attending the meet and wanting to go, they will need to contact Matt Mason directly. No one goes without a liability waiver, knowing the rules, and knowing the secret handshake. After finding out all of that, you will be given the information on where to meet and how we will go into the shops.
This section of the museum is NOT a public area and is a WORKING shop, so there are limits both physical and age-wise. To attend, you must meet the flowing requirements:
Be in good physical shape that can comfortably walk without assistance. The floor is uneven and at times oily and greasy.
Sign a liability waiver you get from Matt Mason.
Be at least 18-years old.
Wear sturdy, closed-toe shoes. Sandals, flip-flops, etc. will not be allowed.
There is some real history inside those walls right now, including one SP Alameda commute engine sitting in the same original 1869 building it was built in. This really is a one-time event.
To attend the CSRM tour please contact Matt Mason.
---
---
---
---
Tony Rohrs who was a SVLS member and a club president passed away on Tuesday (Feb 1).
Memorial service for Tony will be on Saturday, February 12 at 11 AM. The location is the Carmichael Presbyterian Church - 5645 Marconi Ave, Carmichael, CA 95608 916-486-3771.
---
---
2010 Fall meet photos are viewable now.
---
---
Notice our regular membership meeting is being held at 6:30 at our caboose. This is due to the Halloween event which starts at 7:30.

---
---
The Hagan Haunted Express will be the train to ride for Halloween. Experience the fun of designing and building the track side scary entertainment. Check for current activities on the Hagan Haunted Express web site or call Pete Arney at 916-988-2000

---
---
Long time SVSL member and Friend Bob Lovell passed away on Monday afternoon.

There will be a viewing on Friday, May 7th from 5:00 pm to 7:00pm.
at the-
Palm Mortuary
7600 s Eastern st
Las Vegas NV

There will be no service.
---
---
See Spring Meet photos on-line now.
More photos from Donald Yungling (follow link above).
---
---
Welcome to Our 37th annual spring meet
May 1st and 2nd we will host our 37th annual Spring Meet. This year we are trying an experiment and moving the Spring Meet forward to the first weekend in May instead of its traditional 3rd weekend in May which is the anniversary of the driving of the golden spike in 1973. In spite of conflicts with other live steam events we hope to see you at the track for Spring Meet.
One noticeable change at this years meet will be the loss of shade in the steaming bays. After holding out for many years wind damage and other factors forced us to remove the last two mulberry trees in the steaming bays. While this will result in a little less shade this year we are working on planting new shade trees and making plans for a future shade structure. In the mean time we will provide as much shade possible using tents and canopies.
Friday night pot luck dinner
Friday night April 30th we will have a pot luck spaghetti dinner. To participate in the dinner just chip in $5 per person and bring a desert to share with everyone.
Saturday night dinner
Saturday night we will have a BBQ dinner; reservations must be made a head of time. Dinner tickets are $10 for adults and $7 for children under 10 years of age.
If you haven't already done so please let us know if you plan to participate in the pot luck and/or please male your reservations for the Saturday night dinner. If you weren't called by someone on the phone tree and made your reservations, please call Lee Frechette at (916) 205-6791 to make reservations.
Please remember to register at the meet starting Friday morning before unloading equipment or parking your RV. This allows us to be more efficient and accommodate more guests.
If you have any questions please call Lee Frechette at (916) 205-6791
---
---
The Ione Railfair and Vintage Motorfest has been canceled for 2010.
---
---
There are some new posting of old pictures from previous meets. Spring and Fall of 2002 including one video for the spring meet.
Click the Meet pictures index.
Don't forget our Spring meet the first weekend of May - Bring your train and show it off. Visit old friends and meet new ones.
---
---
With sadness we report the passing away of two members of SVLS.
Paul Clifton who passed away on January 4th. Our condolences to Lois and the family.
Paul's memorial service will be held at 1 p.m. Saturday, Jan. 23, at Mount Vernon Memorial Park on Greenback Lane in Citrus Heights.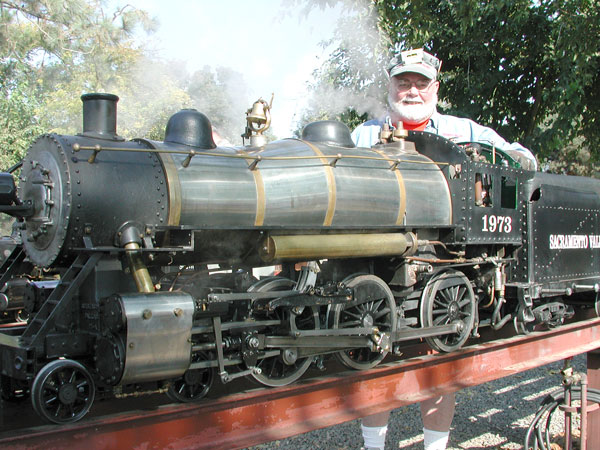 ---
---
Long time member Joel Corbin passed away on January 1st.
Joel's memorial service will be at Fullerton EV Free church in Fullerton, CA. on Friday the 15th of January at 1PM.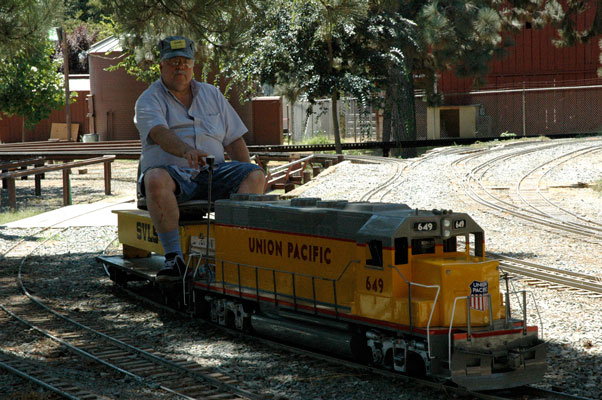 ---
---
Dec 23, 2009
The 4 3/4" gauge track is now open for use. Thanks to Matt Mason.
---
---
Visit us at the International Rail Fair 2009. Rides are available.
Come to the Placer County Fairgrounds in Roseville.
Click here for more info.
---
---
Americorps work crew will be out on November 12th to help with yard work and maybe other projects. Members if you can help also please come out.

---
---
Don Yungling added a few pictures from our Oct. 18th run day to his picture site of SVLS.
See pictures here.
---
---
The Halloween Ghost train event is canceled. We will try again next year. Have a spooky Halloween.
---
---
Fall meet photos have been added to photo section.
---
---
SVLSRM now has a Facebook page thanks to Andy Berchielli (our yardmaster).
Please visit the page and be a friend of SLVSRM.
Use link under menu "links" or click here.
---
---
SVLSRM Members are invited to the Garden RR Picnic on the 15th of August.   
Please come out and help run trains, and bring your own train to show and run. 
There will be food and a raffle. 
Aug 8th, 2009 
---
---
Dear S.V.L.S. members,
ON behalf of myself and my two sisters, I would liketo thank all of you for coming to our fathers memorial and gathering afterwords. We could all tell by those who spoke that he was loved by all. We thank you for all the food and hope everyone that attended enjoyed it as well.
Thanks again,
Wayne, Julie and Darlene
---
Celebrate July 4th come out and run your train on July 3rd and 4th.   Public rides noon to 4pm each day.
---
We are sorry to report that Milon Thorley passed away on June 11th.    Our condolences to the family.
Milon was an original member of the SVLS.  He enjoyed steaming and helping others learn how.
   
---
New photos added from Spring meet. Thanks to Gordon Briggs, Lois Clifton, and Bill Yoder
6/5/2009 
---
Spring MEET   May 16-17



Two days of seeing lots of locomotives.

Public rides  on May 17 Noon  to 4PM

If attending dinner Saturday evening please make your reservation with Lois by may 12th 



---
UP 844 Western Heritage Tour - April 11 - May 12 Cheyenne-California-Cheyenne
Will be in Roseville yard Saturday April 18 noon to 3 pm.
See complete schedule
4/11/2009
---
4th Annual Ione Railfair and Vintage Motorfest
Join the Festivities at Ione, California on May 23-24, 2009 free Admission.
Ride in the large Skagit motorcar, in rail speeders, or on a handcar on the historic Amador Central Railroad; it's great fun for individuals, families, and groups.
For more information see: www.ionerailfair.org
3/13/2009
---
Congratulations to SVLS. The Cordova Community Council announced that we have been selected the winner of the 2009 "Community service Award". We will be honored during the 10th Annual Community Volunteer Awards and Mardi Gras Party scheduled for Friday, Feb 27. tickets are available for $20 each.
Details: 6 p.m Cocktails, 6:30 p.m. Dinner, and Program at 7 p.m. Followed by a Mardi Gras Party. Location: American River Room, Rancho Cordova City Hall, 2729 Prospect Park Dr.
Contact Shelly at (916) 273-5704 for reservations.
2/12/2009
---
Join us for a special demonstration on applying decals. Kevin Sach will show us the method to apply decals durning our workday March 21st.
2/12/2009
---
On 11/30/2008, SVLSRM participated in the City of Rancho Cordova Christmas tree lighting event at the new Capital Village city park by giving free train rides to all. For our participation, we were awarded a Certificate of Recognition by Mayor Linda Budge at city hall on December 15. See the award ceremony at city hall on this video link .
The screen for the Rancho Cordova City Council Meeting for December 15 will be presented.

Click on "Jump to..." below the video screen then click on "5.1 Presentation of Certificates...".

Our brief part of the ceremony will occur at about 20 minutes into the video.

A very neat media presentation of the entire tree lighting ceremony occurs at 34 minutes.

We have some nice shots in that presentation.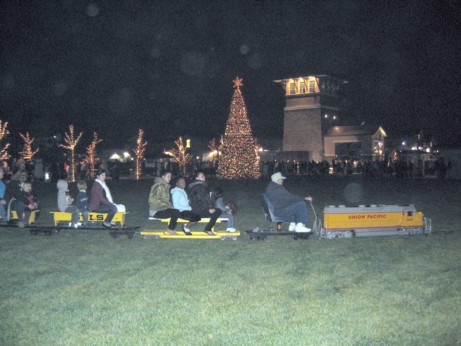 ---
Good news on Monday evening (Nov. 4th) Roger's trailer and trains were recovered, he stated all is okay.
***
Train trailer with 8 rail cars stolen on Oct 28th from the Bakerfield California area.

This belongs to Roger Frymire. This is a 12' Pace cargo sport with Union Pacific logo on the sides, Bittercreek Western logo and the Kern county Live Steamers logo on the rear.
---