---
---

Check for updated listing.
---
---
1" scale, 4.75" gauge train consisting of : Maxitrack 0-4-0 side rod diesel (new transistor throttle, professionally rebuilt motor, battery) , 2- Scale RR Supply gondolas (50" long with SKF sprung, roller bearing trucks, 1 painted, 1 aluminum) , 1- Little Engines Box Car painted red w/fixed doors, 1- Little Engines old style caboose (32" long w/ hand rails, SKF sprung, roller
bearing trucks, red w/ brown roof), approx. 260' aluminum track w/plastic ties.
Asking $2,750 at Sacramento. Contact Gerald D. Thomas if you would like to see the equipment. samoht-4@att.net.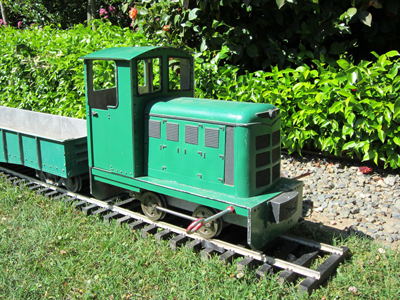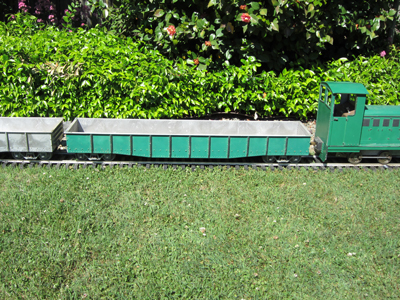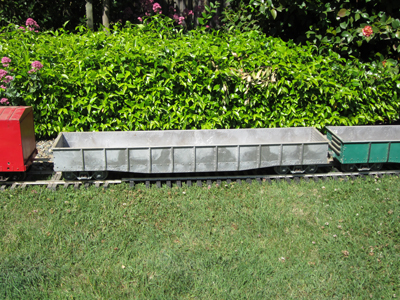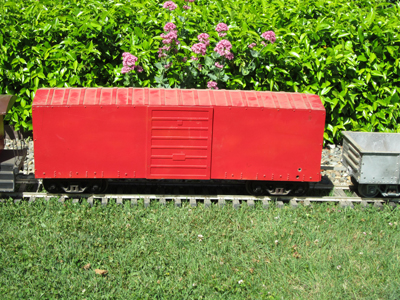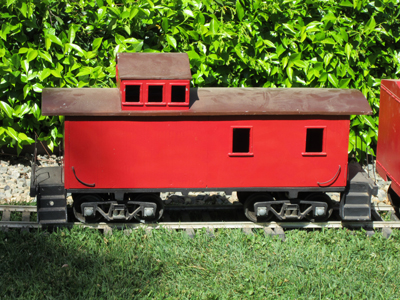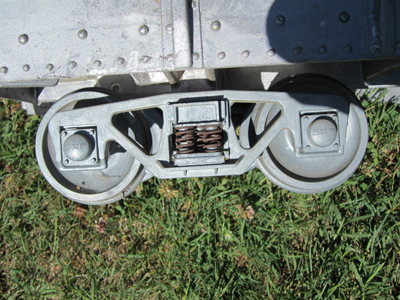 ---
---
1.5", 7.5 Ga 90 ton Mikado project. Modeled after Rayonier 90. Oregon certified steel boiler with 15 element super heater. Finished frame and saddle attached to boiler. Cylinders rough machined. Finished tender with 'T' type oil tank that includes steam heater. Also operating brakes. Many castings to go with project. Photos, plans, and Oregon certification included. $7,000. Contact: John Kelso email: jkel12@yahoo.com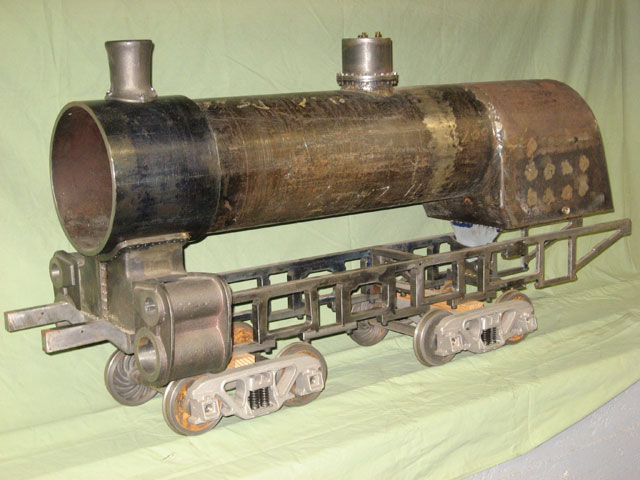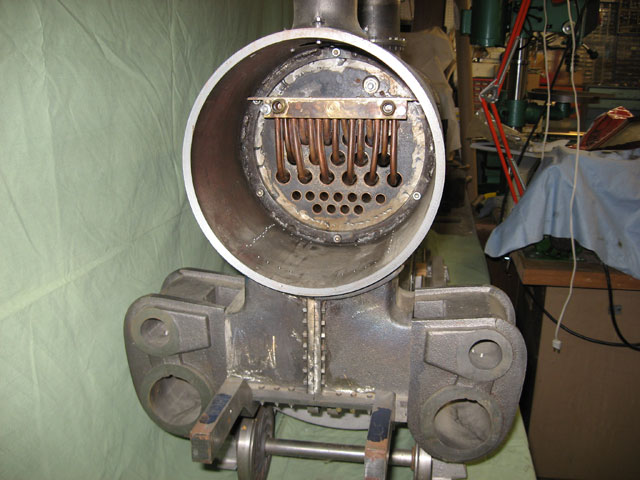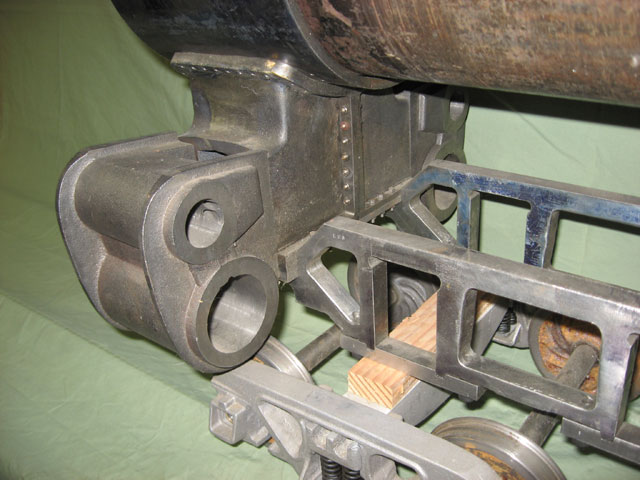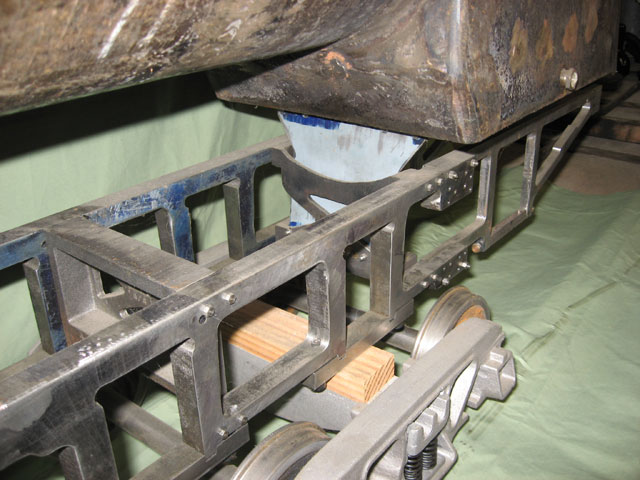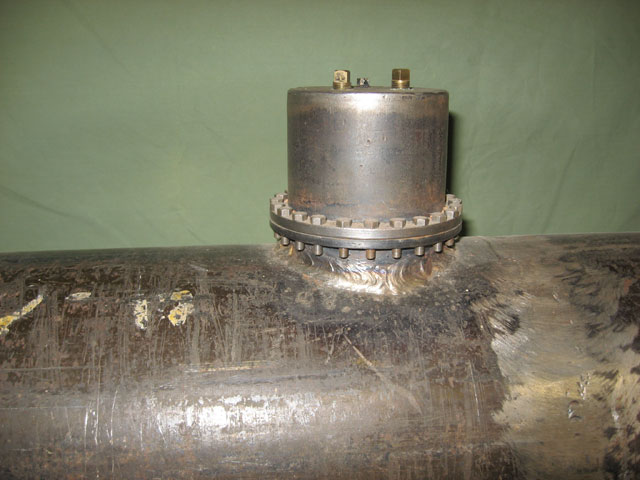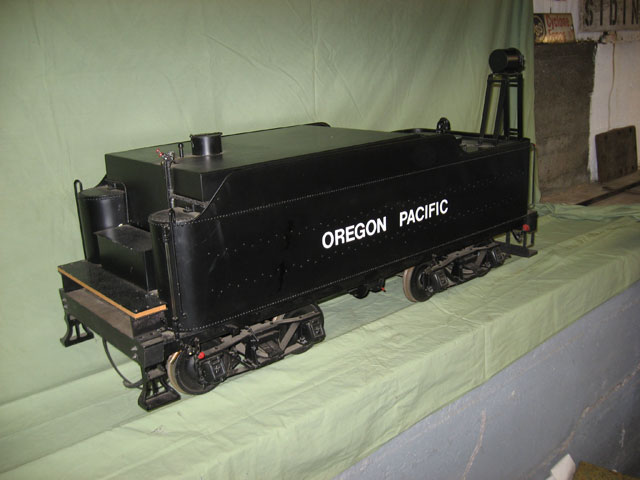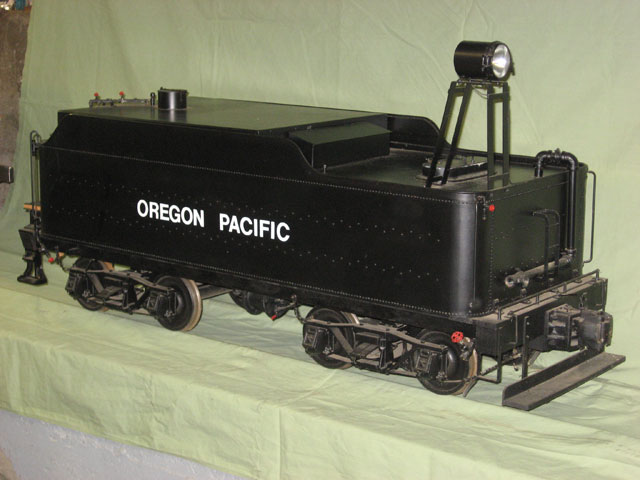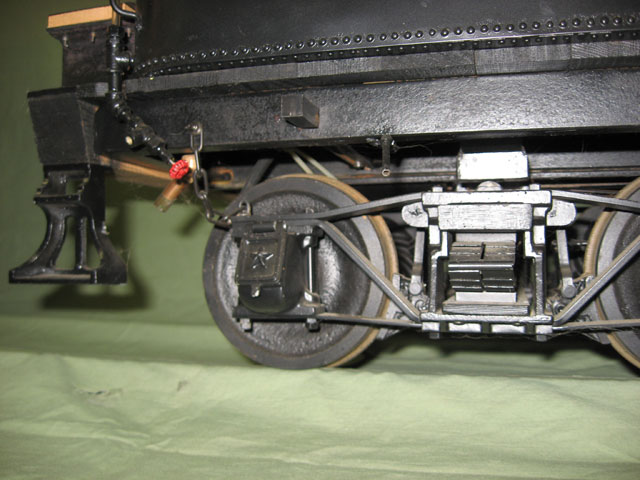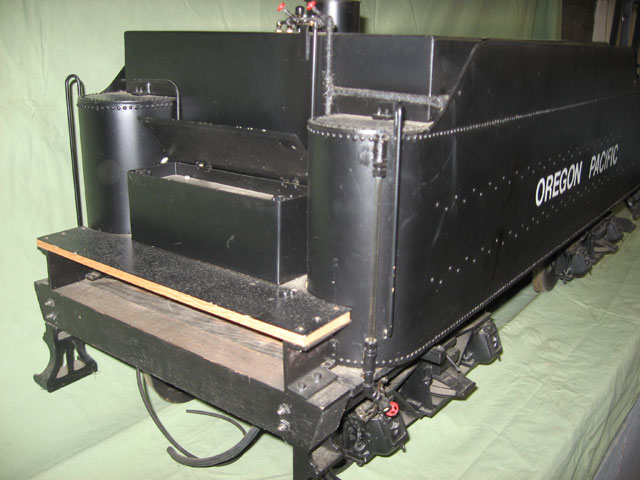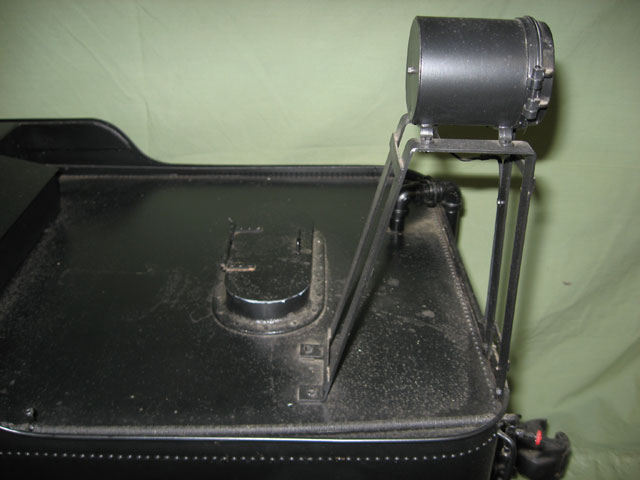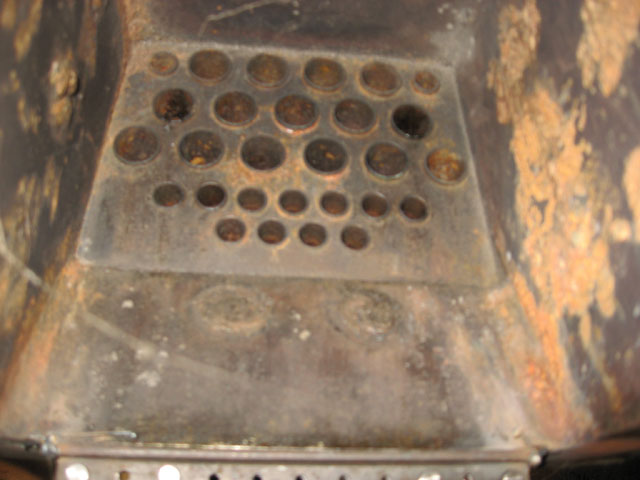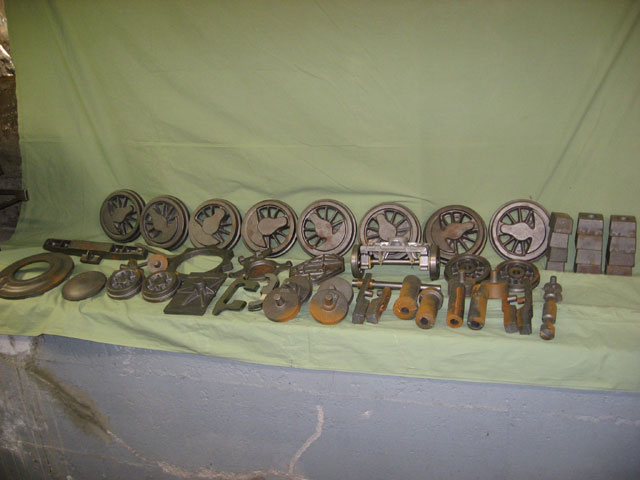 ---
1) 6ET Brake Valve: $150 ea
Operates like prototype. Air pressure releases the brakes, making this a failsafe system.
CNC machined.
Runs on air only up to 100 PSI.
¾ X ¾ plus handle.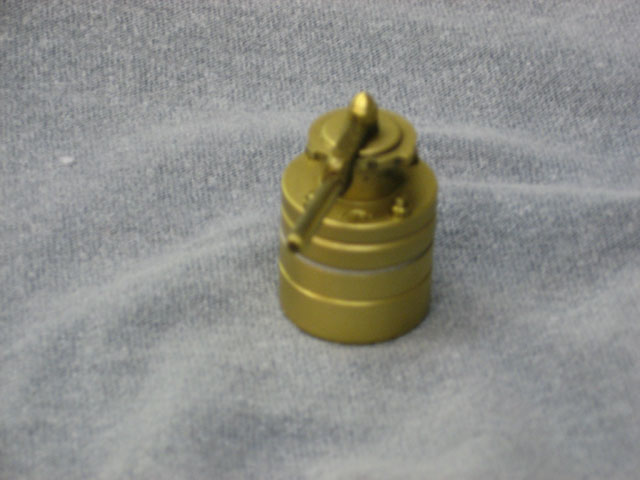 2) Blue flag: $15 ea
Used to warn others that men are working on or around equipment and not to move or couple to it.
7" High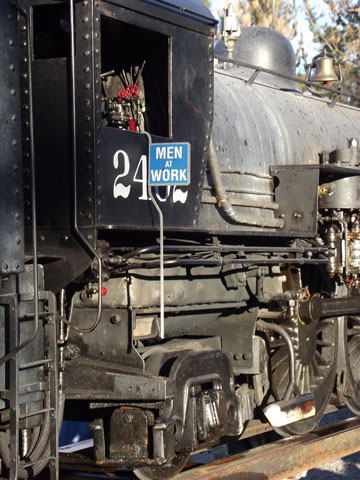 3) Friction draft gear: $60 pr
Mounted behind the coupler shank, and connected to it by the draft key.
Castings only.
4) Glad hands: $25 pr
CNC machined.
Easy to operate. Non rusting pins. 3/16 to ¼ hose barb.
Suitable for air or vacuum.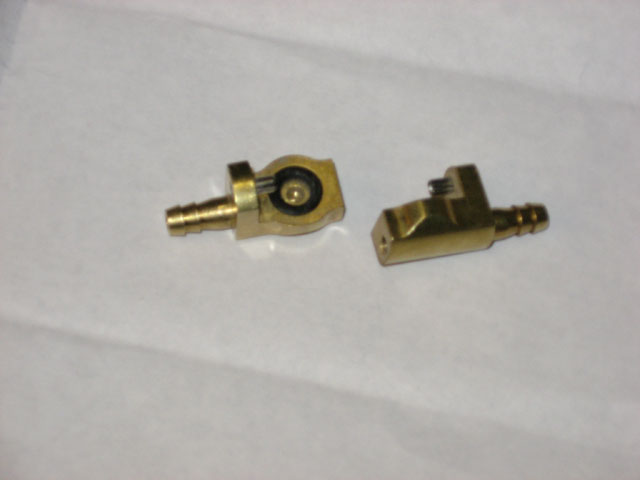 5) 50 ton AAR truck: $550 RTR
Silicon bronze.
CNC machined for part interchangeability.
16 bearings per set.
Will not go out of tram.
Very flexible.
Stress proof steel wheels (hydraulic cylinder rod material).
Based on 1940 specs. Plank less or plank.
20 30# rated springs with elastometric overloads.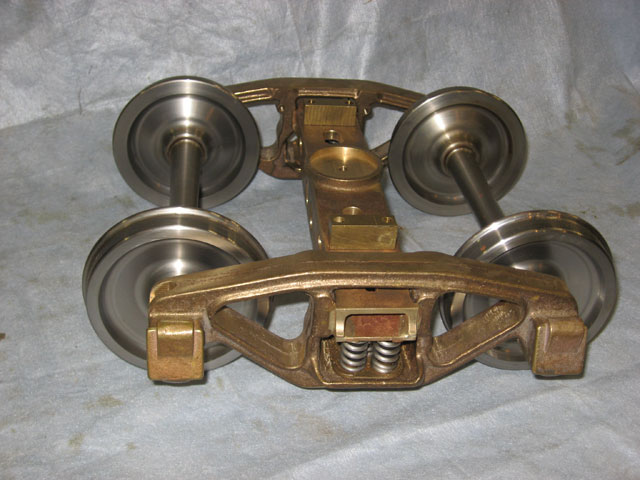 6) Brakes: $200
Based on 1940 specs.
All CNC machined.
Through the bolster strut.
Just install the hanger mounts, hang the links, hook up the rods and levers, and the trucks are ready to go.
Also available with low struts for solid bolsters.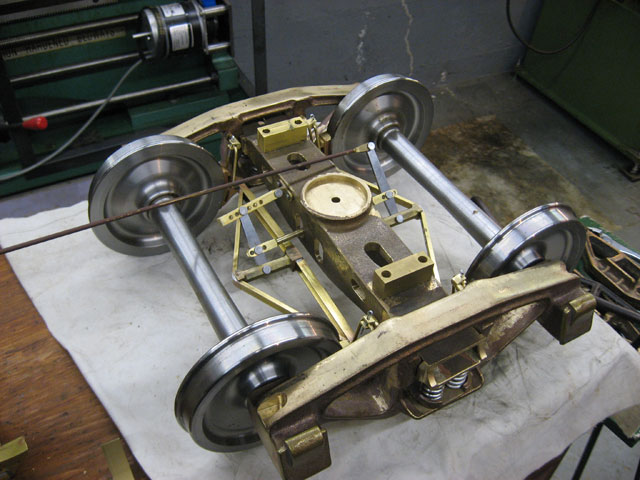 7) Roller side bearer: $50 set
CNC machined.
Self clearing.
Self centering.
.625" high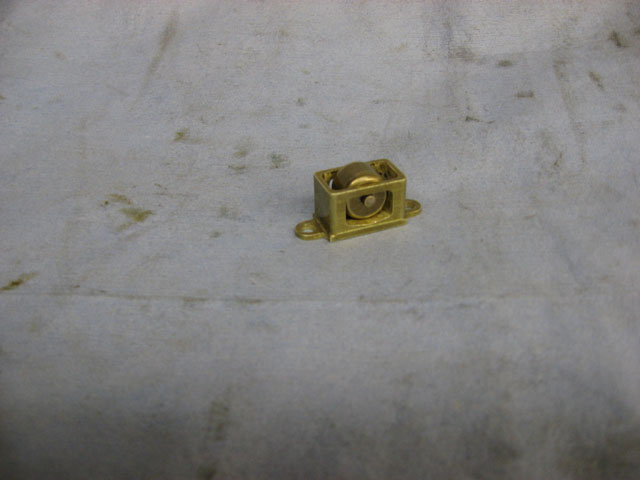 8) Bustler load test at 1500# failure point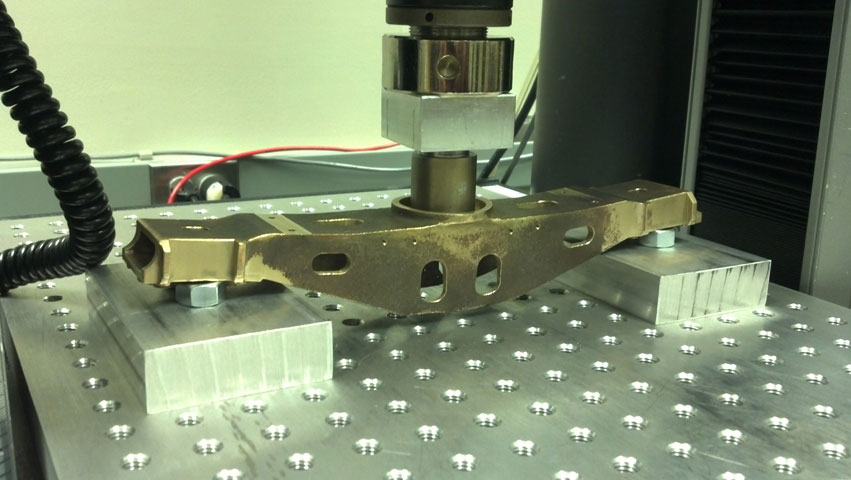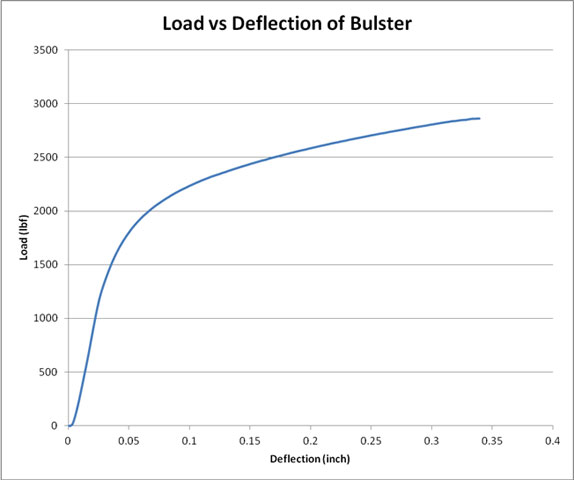 12)Track closed/occupied sign:$25
Clip on side for rail
Magnet on bottom for steaming bay track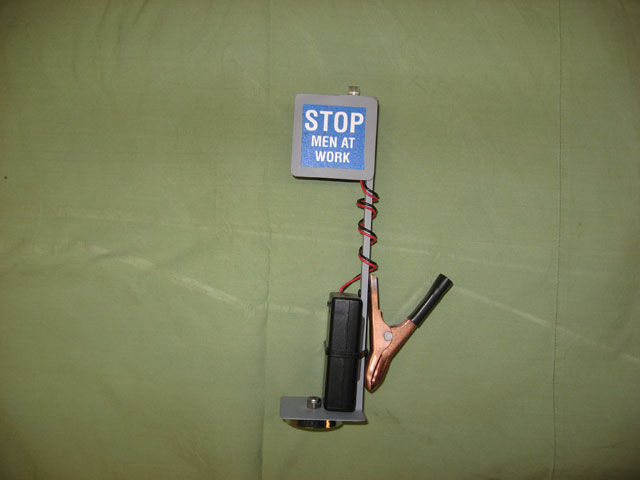 Contact: John Kelso email: jkel12@yahoo.com
3/21/2013
---
---
Hall Scott car with trailer car 7.5" gauge, roughly 2" scale. Made by Andy Clarici, original one of a kind.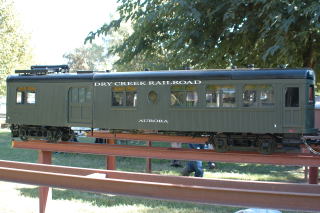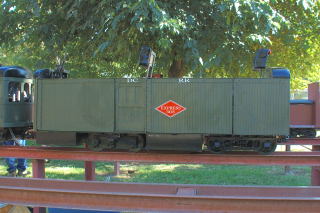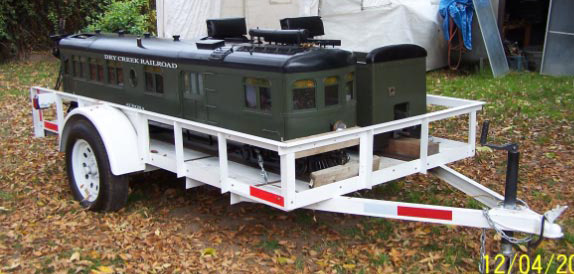 Includes 5' x 10' trailer with custom cover. Also includes spare engine. Asking $10,000 for all. Located in Sacramento area.
Contact: Lois Clifton 916-722-8514
3/14/2013
---
---
Railroad Supply RTR 7 1/2" Gauge American Locomotive and Tender For Sale

Selling a ready to run 1 ½-inch scale 7 ½ -inch gauge Railroad Supply 4-4-0 American Steam Locomotive and Tender. This is a beautiful operating locomotive which would make any live steamer proud to be the new owner.
The locomotive has a copper boiler, spun copper diamond smoke stack, brass domes, safety valves, steam whistle, duplex feed water pump located in the cab, an All-American pressure gauge, crosshead feed water pump, mechanical lubricator, in addition to many other details. The sight glass piping was recently upgraded in order to comply with current GGLS club safety regulations which require the water sight glass to be blown down from either the top or bottom boiler connections. The majority of screws have been replaced with high-strength alloy socket head cap screws. A RRSC headlight kit with mounting brackets and a machined brake set is included for installation by the buyer.
Major portions of the engine and the tender have recently been cleaned to bare metal, primed and painted with oil based enamel paints. Lettering and numbering is left to the new owner to suit their favorite railroad line and preferences.
The tender is fabricated from brass/copper with a brand new single sheet of 16 gauge brass for the tender top. The tender is equipped with the standard RRSC manual feed water pump, a knuckle coupler and motorcycle style folding foot pegs. The Central Pacific style sprung tender trucks are highly detailed and roll on ball bearings.
The copper boiler was tested to 1 ½ times its operating pressure along with a wheel gauge check on 02/05/12 by a GGLS club boiler inspector. The locomotive is coal fired has been run under steam at the GGLS facility on numerous occasions. The last run was on January 6th, 2013 where the locomotive freely ran around the track for a number of hours pulling two adults. The locomotive has Golden Gate Live Steamers (GGLS) boiler tag, No. 325.
A shovel, coal poker, air blower for starting the fire, and bucket of coal are included. A set of drawings are included. The locomotive can easily be converted to propane for those wishing to fire the locomotive on this fuel.
The only reason we are parting with this beautiful locomotive is the fact that we have four other steam locomotives and space is at a premium in our garage machine shop.
Asking $13,400. Can be viewed at the Golden Gate Live Steamers track in Berkeley, CA. Will steam up and demonstrate for buyer on day of sale. Please contact Michael B. Smith at (650) 615-0475 for information.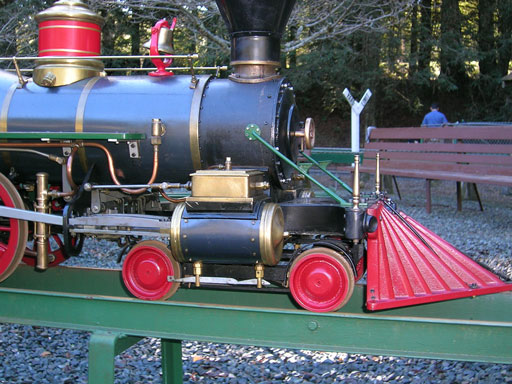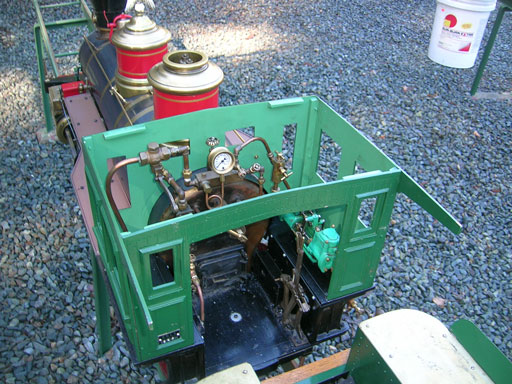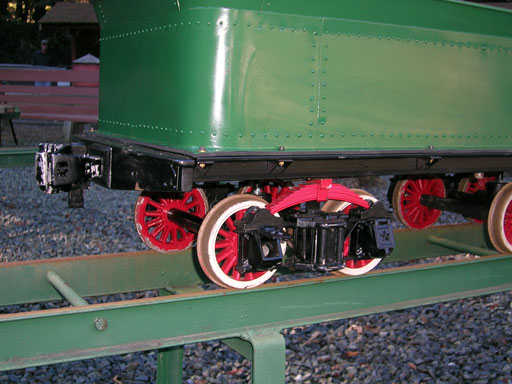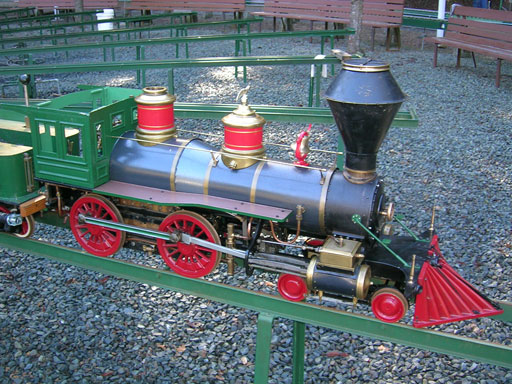 2/24/2013
---
---
First sections of a Little Engines 7.5 scale 4-6-4 Hudson for sale. These are factory machined ,never been assembled and are in excellent condition.
You can call 307-399-0077 for more info.
Steve Wolff
---
---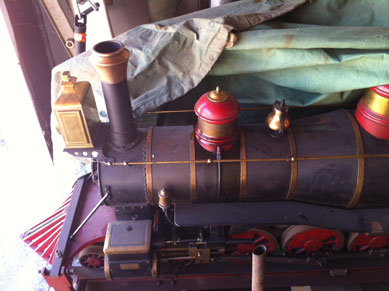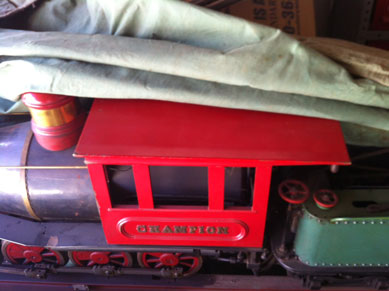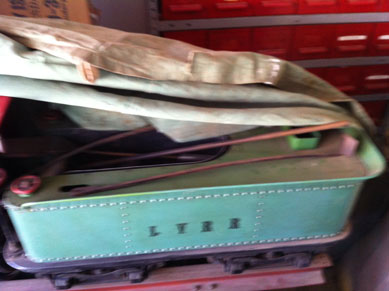 4-8-0 Lehigh Valley Champion which ran many hours there at the park. Selling the whole train, the support cart it sits on, a passenger car and caboose along with some track. Train is coal fired but has sat covered for many years. Plus some various train items he'd like to get rid of. He is asking $25,000 for everything.
Austin Knoff - 916-485-4070.
---
---
0-4-2 Plantation Engine 7.5" gauge
1 3/4" bore x 3" stroke, 7"dia. drivers, slide valves, presure 125 P.S. I
Boiler 6" ID steel, 3/8" copper tubes rolled in
Grate area 5 1/2" x 6" Propane fuel
Weight 405 lbs. full, 180 bls. front, 175 lbs. rear, 50 lbs. trailing truck
Length 53", Height 28", width 30"
Hydraulic brakes, Uses Gene Allen Mogul cylinders, Steel drivers tries shrunk on and can easily be regauged to 7 1/4" gauge.
See 1906 Locomotive Dictionary page 5 Fig. #10 for prototype builders photo of this locomotive.
Completed Oct. 1989 by Andy Clerici - Napa, California Tel: (707) 224-3735
Price $20,000 includes riding gondola with compartment for propane tank.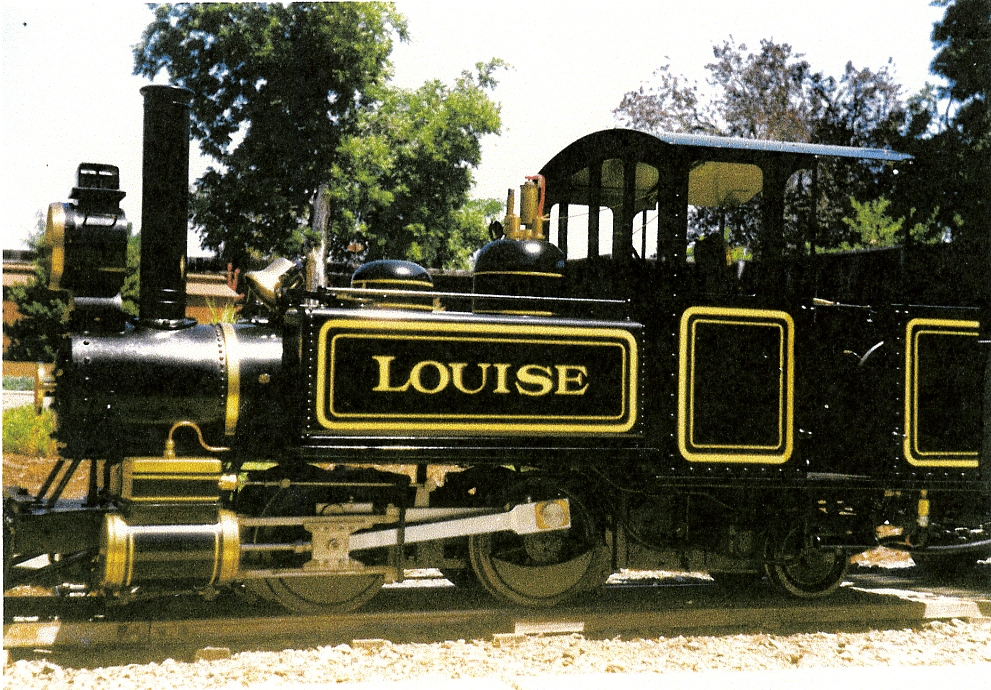 ---
---
Coal Fired 0-4-0
7.5" Gauge
1.5" Scale
2" Winton Cylinders
The oil burner had been removed and coal grates have been put in to return the locomotive to its "as built" condition.
The locomotive has been re-timed and has much more power now.
A complete mechanical review has been done to ensure everything is in proper order for a good sale.
*Photos taken two weeks before the larger oil tank was installed & the whole thing repainted and numbers added (#99)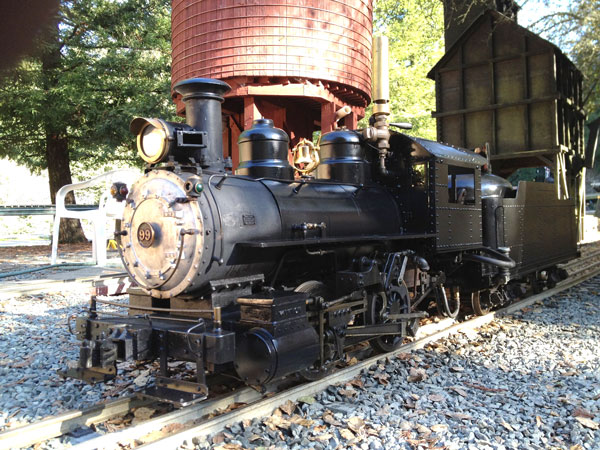 This locomotive was built by Mr. Terry Taylor in 1972. It features an axel pump and a hand pump. There is also the necessary plumbing for an injector. The locmotive is fired up on a regular basis at the Golden Gate Live Steamers. It holds about 10 gallons of water if I recall correctly. It was weighed in at just about 350 lbs. It has hauled the club public train with a total of 22 passengers on board. I am working on a leak in the dummy slide (actually piston valve) cover. It is the only mechanical issue with the locomotive. I am currently working on the leak, it is an easy fix. On other locomotives this has been fixed by replacing a gasket or just simply tightening loose bolts. The locomotive is very complete with detail. I have had this locomotive for 2 ½ years and it has been an interesting journey through the ups and downs of locomotive ownership. It's all part of the fun. I am selling my locomotive because I'm ready for a bit of change and I would like someone else to enjoy my locomotive as much as I did! All though people at my club noticed my irritation with the little issues that came along with the locomotive, many of them never noticed my emotional attatchment to my little 0-4-0. I want it to go to a good home and I hope it will bring the joy and educational value that the live steam hobby has to offer!
$12,000 OBO

David Waterman steamfreak22@gmail.com

4/2012
---
---
Track for sale.
I have 240 feet of 1 1/2 inch scale track: 6-10 foot lengths of track on ties; a right hand switch with a # 6 Frog; 12-10 foot lenghts of straight rails; 22-10 foot lenghts of curved rails. The track has some weathering but has never been used. I am asking $450 or Best Offer for everything. I live in Santa Rosa if anyone would like to see the track.

Orval Hansen
(707) 527-6416
Nov 2011.
---
---
Metal Working Lathe (Harbor Freight brand)
$300
Call Ross Crawford 916 718 4162
---
---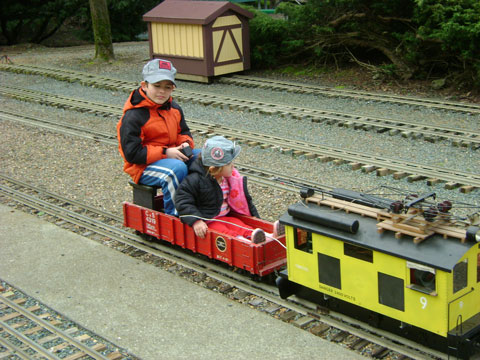 FOR SALE: 1" electric Colorado & Southern trolley, yellow, with panagraph, (w/rebuilt electrical system), hand held controller, runs great, has 2 batteries and disconnect, comes with a 1" scale red gondola car and a 1" scale red flat $2,000.00 for all 3 pieces or OBO (attached is a photo) Call Ken Carvalho 510-381-3527 or email morton.street@comcast.net pickup in Alameda.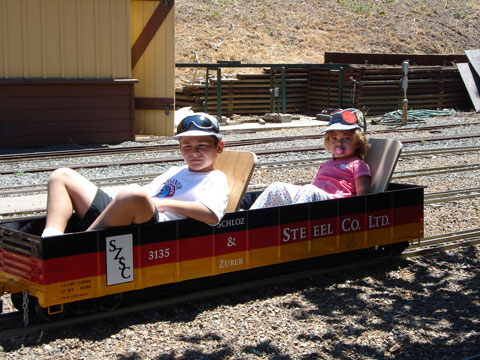 FOR SALE: 1 1/2 scale steel 72" gondola car with custom paint and decals "Schloz & Zuber Steel Co." (brand new) $1,200.00 or OBO (attached is a photo) Call Ken Carvalho 510-381-3527 or email morton.street@comcast.net pickup in Alameda.


FOR SALE: 2 each Engine storage racks (on casters), custom fabricated – accommodates both 1" and 1 1/2 scale equipment, 2 levels $600.00 each or OBO Call Ken Carvalho 510-381-3527 or email morton.street@comcast.net pickup in Alameda.

(4/11/2011)
---
---
FOR SALE: 1.6"scale, 7.5"ga Southern Pacific C-30 Caboose drawing package. Contents: 58 fabrication and assembly drawings (produced using autocad); 11 pages Assembly Procedures; 3 pages List of Materials, Suppliers, Detail items and Paint Specs.; 55 detail photos of prototype and 1.6" scale model caboose. The information contained in this package along with your skills will produce an excellent protoypically correct caboose. Price: $85.00.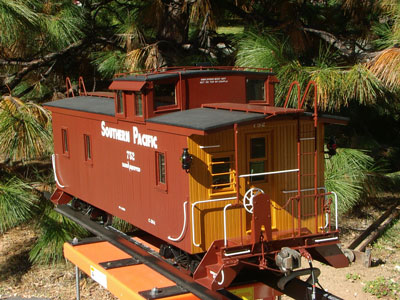 Model of caboose made from plans. (only plans are for sale)
Keith Jackman
636 Linden Ave.
Grass Valley, CA 95945
Ph: (530)272-8531
e-mail: kpjackman@sbcglobal.net

11/6/09
---
---

#1. Mechanical cylinder cocks for 1 to 4 inch cylinder. 1/8 NPT.
Four per set, $80 per set.

#2. Steam oil $10. per quart.

#3. 6 wheel common wealth passenger trucks for 7 1/4 or 7 1/2
gauge. $1200. Per pair.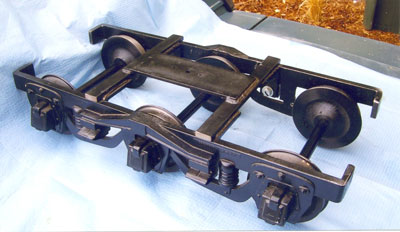 Ross Crawford 916-718-4162
10-21-2009
12-5-2008
10-2-2008

---
---
FOR SALE:
1.5" scale Pyle National extended case dual GYRALITE.
This is modeled and operates "True to scale" from the prototype and is constructed primarily of brass. It is often seen mounted on the front of high hood GP and SD series road engines and SW series switch engines. The only part extending through the hood of your loco would be its 2.5vdc power cable. "Extended case GYRALITE". Price $395.00 allow up to 5 weeks delivery.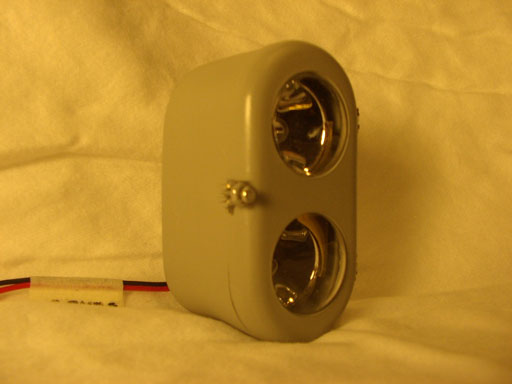 FOR SALE:
1.5" scale Pyle National flush mount dual GYRALITE.
Available with or without light shields.
This is modeled and operates "True to scale" from the prototype and is constructed primarily of brass. It is often seen mounted center over the front cab window. The light operates on 2.5vdc.
"Flush mount GYRALITE". Price $395.00 allow up to 5 weeks delivery.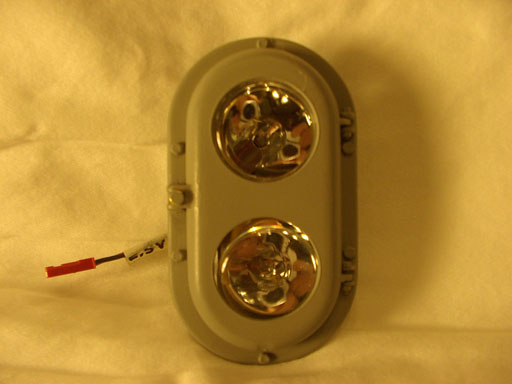 FOR SALE:
12vdc to 2.5vdc voltage regulator/reducer for GYRALITES. $30.00
Contact:
Keith Jackman
636 Linden Ave.
Grass Valley, CA 95945
Ph: (530)272-8531
kpjackman@sbcglobal.net