---
---

Check for updated listing.
---
---
FOR SALE: Several years of Live Steam, Modeltec and Live steam & outdoor railroading magazines if anyone wants them.
Also I have a mill drill and a craftsman atlas lathe for sale. $1600 for both. They are in various repair stages (apart). Included are accessories, quick change tool post for example, and a 240Vac single phase/3 phase convertor for the mill drill.
Frank B. Vanderpool
(707)447-8938
---
---

You can be on the rails in steam for only $5000/offer. I am offering my complete , RTR train consisting of a 7.5" gauge INVICTA locomotive, tender, engineer riding car, and tool car . Loco has a propane fired steel boiler with copper tubes, axle driven feed pump backed up by a hand pump in the tender as well as a axle driven mechanical lubricator. Slip eccentrics for forward/reverse. The engine is a twin cylinder double acting wth a bore and stroke of 1"x 2.2" The tender water capacity is limited to 1 gallon so I built a 3 gallon water tank in the engineer's riding car along with an electric pump and battery to transfer water to the tender on the fly. There are hand operated mechanical brakes on the engineer's riding car. A 110 VAC blower for firing up is included along with tools to change out the propane tank, lubrication bottles, foot peg bar for tool car and misc fittings.
Contact Bill Cody at 775-674-6512, cell 775-233-1429 or email tosteamboatbill@sbcglobal.net
Engine is located in Reno, Nevada and can be delivered for a fee.

To see and hear a video on the engine being fired and run on the bench, click on this Video link
12/20/2016 updated
---
---
Trolley for Sale.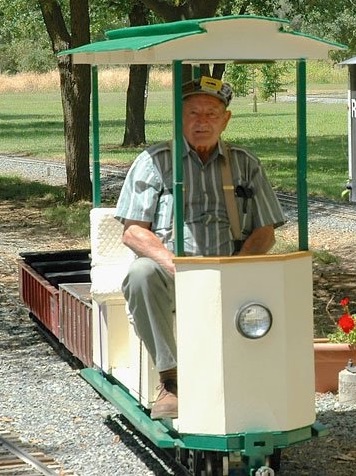 Electric Trolly, with engine stand $3000
Call: Clio Geyer (916) 645-9154
---
---
7 1/2" Gauge steam locomotive 1/8th scale British Rail Standard Class 4 steam locomotive.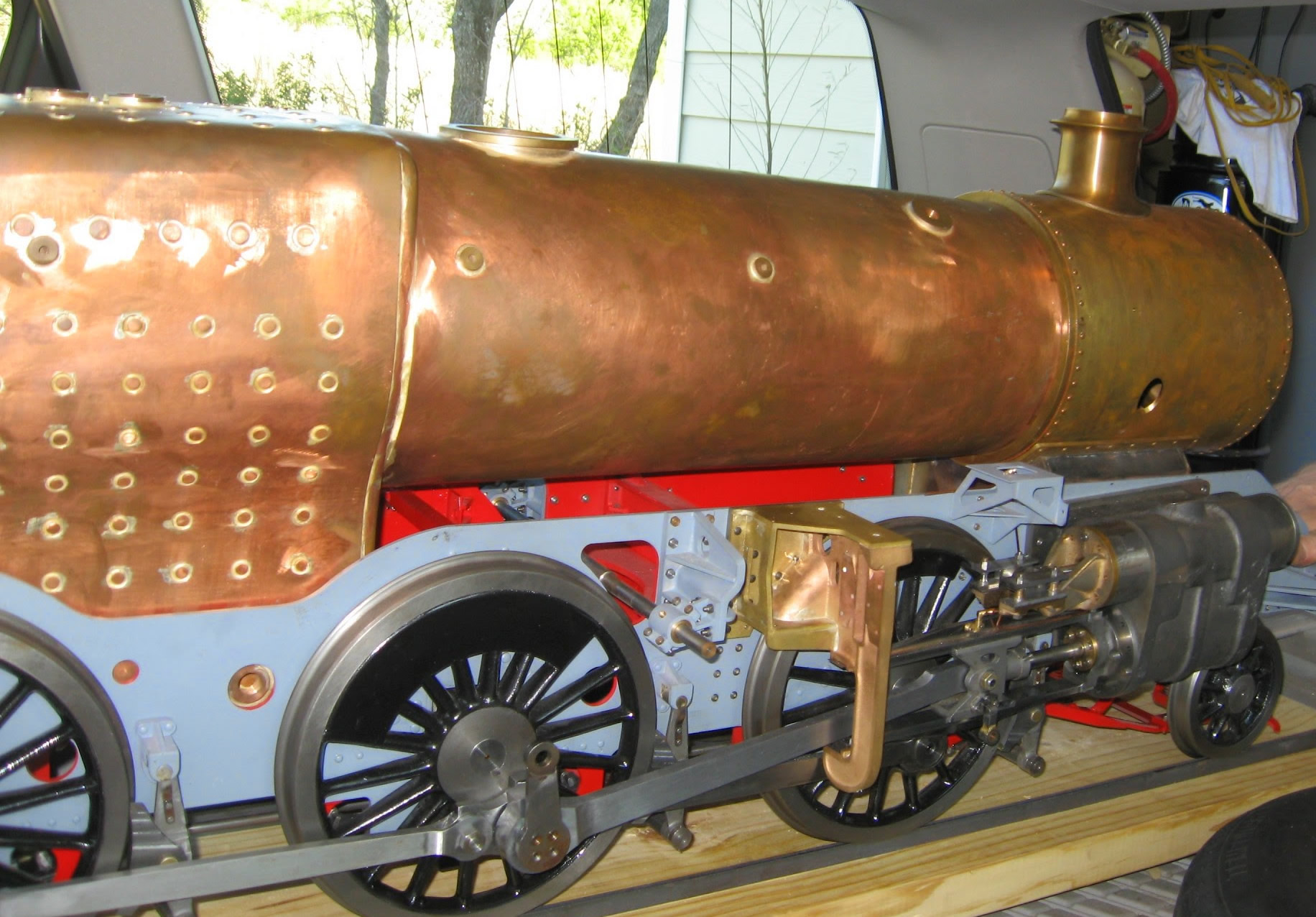 This model is coal fired and most of the major components are complete. No superstructure or side tanks have been started yet, however many of the cabin dials and controls are complete including a rather clever opto-electric speedometer. The Locomotive and its valve gear has been run successfully with compressed air but no steam has been put through it. Included with the parts shown are some bogie castings for the tender or driver carriage and some sheet brass for the water fabrication.
The boiler was made by a licensed boiler maker in Bristol, England, www.kingswoodboilers.co.uk, serial # KB08002.
For full details and lots of pictures please see this web site: http://sites.google.com/site/264tloco/home
Any serious offer will be considered.
Please contact Martin Chorley: 650 399 6769
---
---
1.5", 7.5 Ga 90 ton Mikado project. Modeled after Rayonier 90. Oregon certified steel boiler with 15 element super heater. Finished frame and saddle attached to boiler. Cylinders rough machined. Finished tender with 'T' type oil tank that includes steam heater. Also operating brakes. Many castings to go with project. Photos, plans, and Oregon certification included. $7,000. Contact: John Kelso email: jkel12@yahoo.com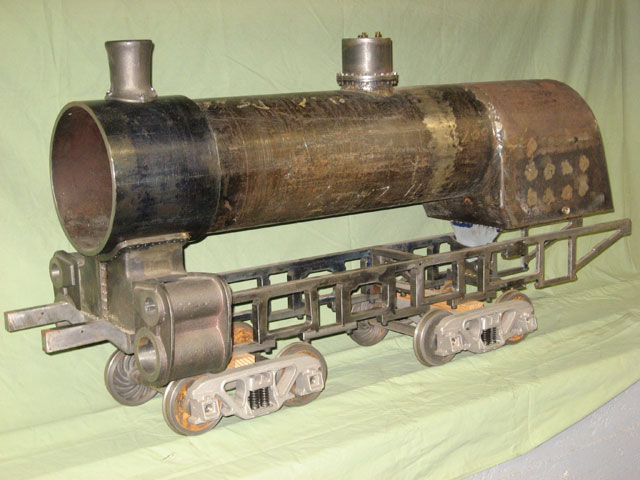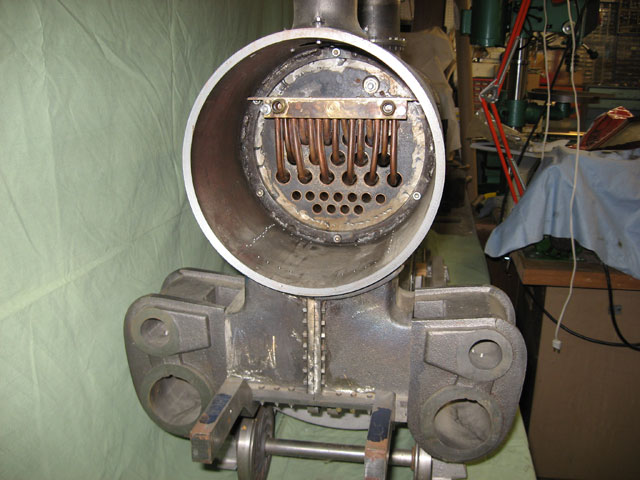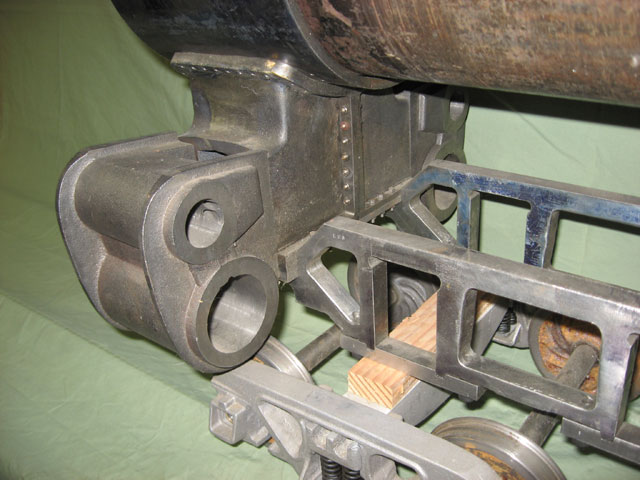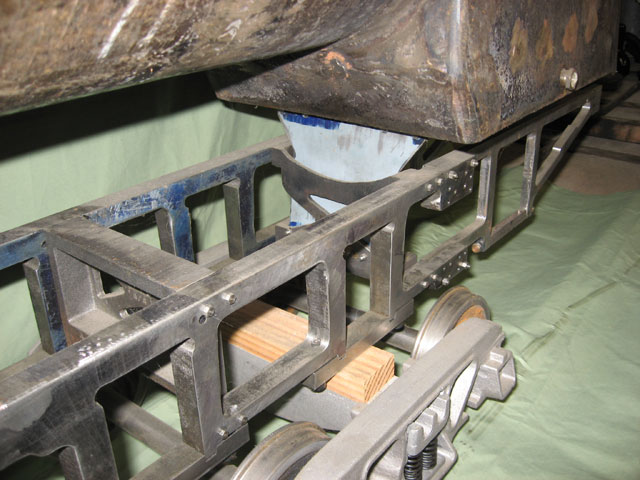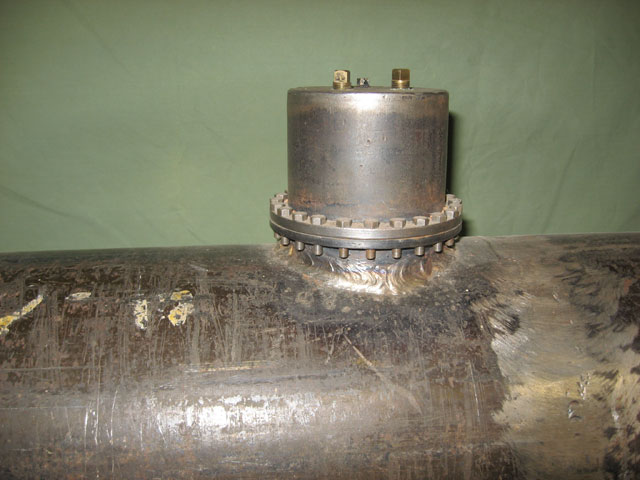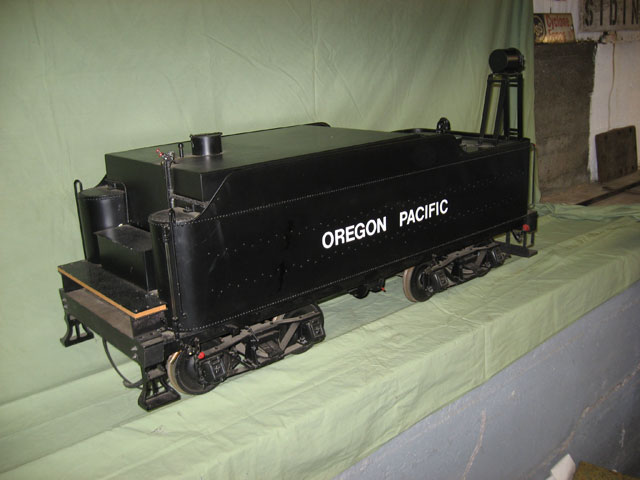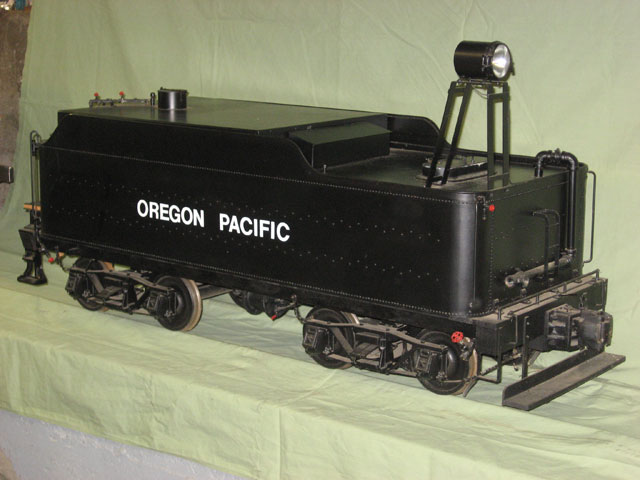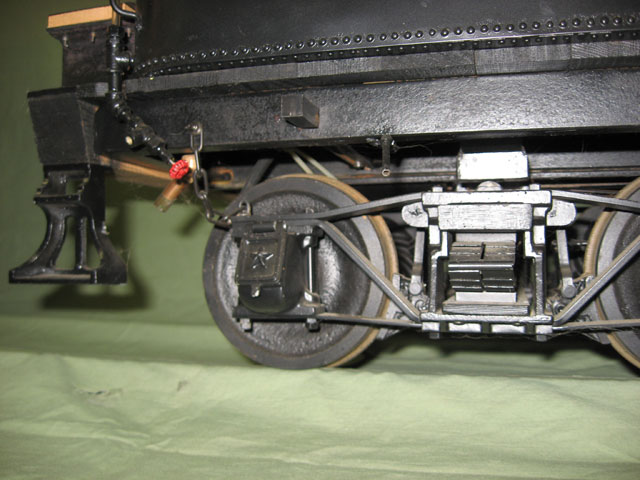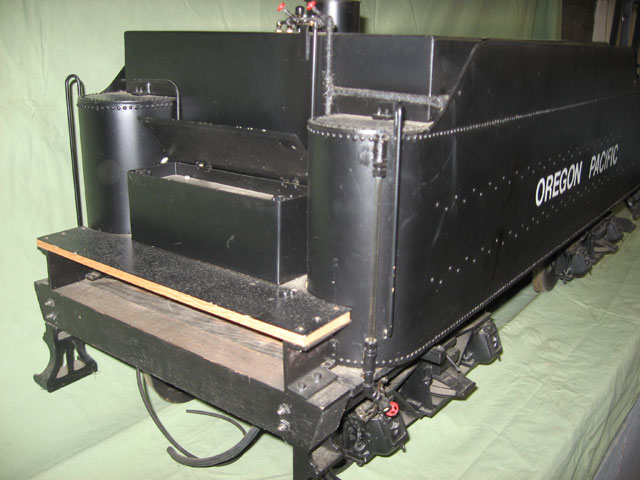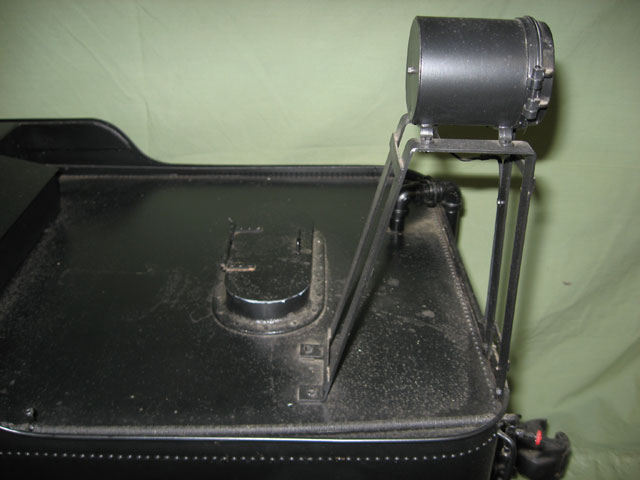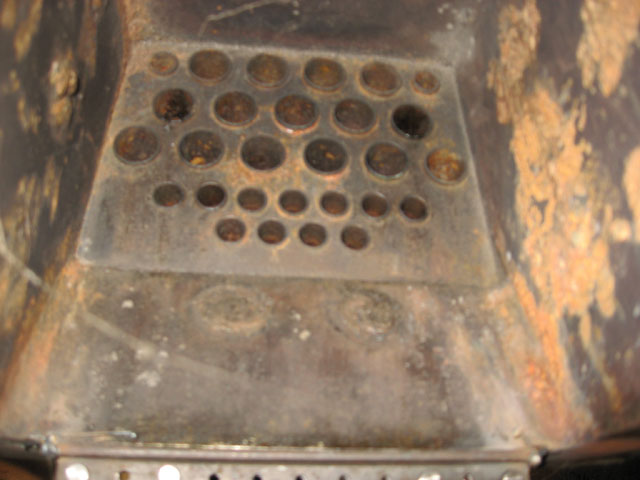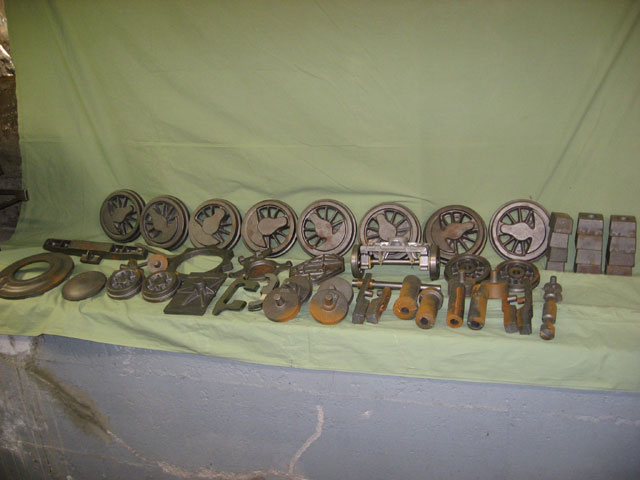 1) 6ET Brake Valve: $150 ea
Operates like prototype. Air pressure releases the brakes, making this a failsafe system.
CNC machined.
Runs on air only up to 100 PSI.
¾ X ¾ plus handle.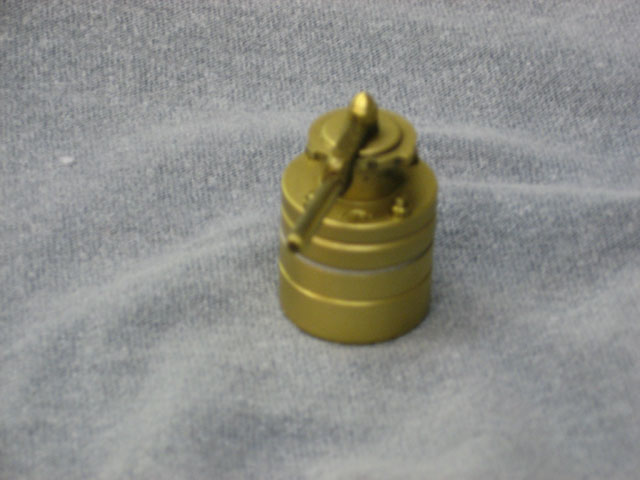 2) Blue flag: $15 ea
Used to warn others that men are working on or around equipment and not to move or couple to it.
7" High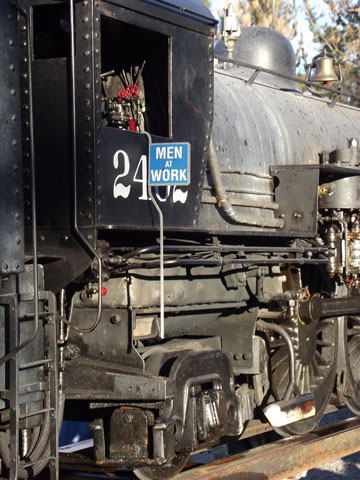 3) Friction draft gear: $60 pr
Mounted behind the coupler shank, and connected to it by the draft key.
Castings only.
4) Glad hands: $25 pr
CNC machined.
Easy to operate. Non rusting pins. 3/16 to ¼ hose barb.
Suitable for air or vacuum.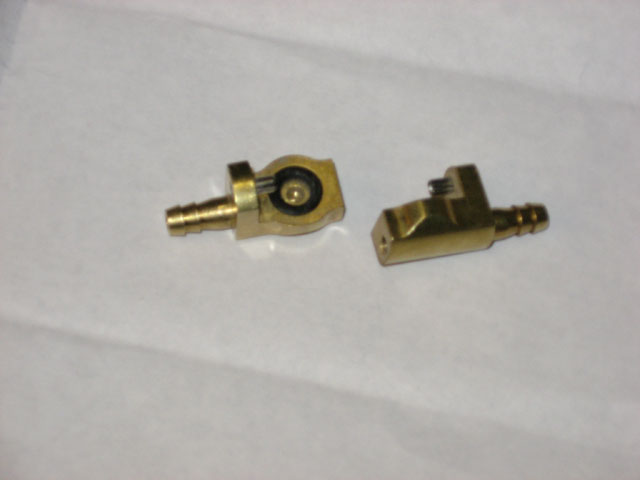 5) 50 ton AAR truck: $550 RTR
Silicon bronze.
CNC machined for part interchangeability.
16 bearings per set.
Will not go out of tram.
Very flexible.
Stress proof steel wheels (hydraulic cylinder rod material).
Based on 1940 specs. Plank less or plank.
20 30# rated springs with elastometric overloads.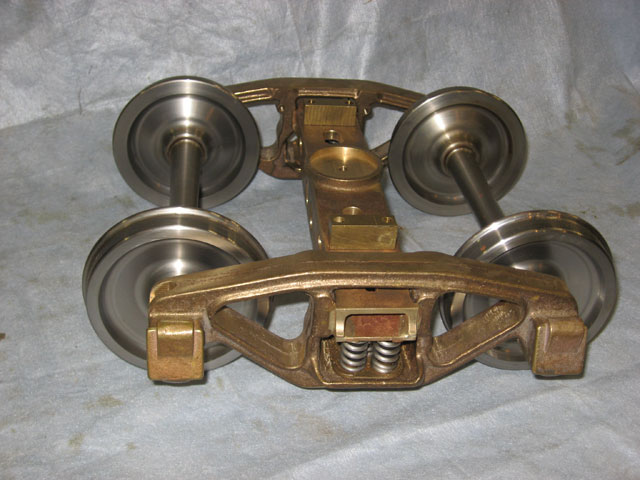 6) Brakes: $200
Based on 1940 specs.
All CNC machined.
Through the bolster strut.
Just install the hanger mounts, hang the links, hook up the rods and levers, and the trucks are ready to go.
Also available with low struts for solid bolsters.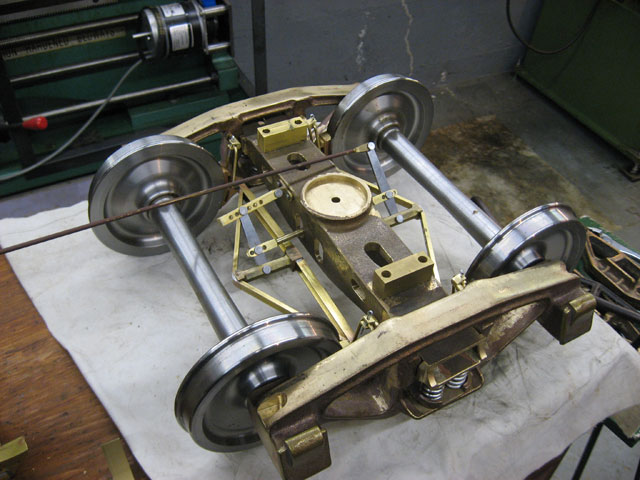 7) Roller side bearer: $50 set
CNC machined.
Self clearing.
Self centering.
.625" high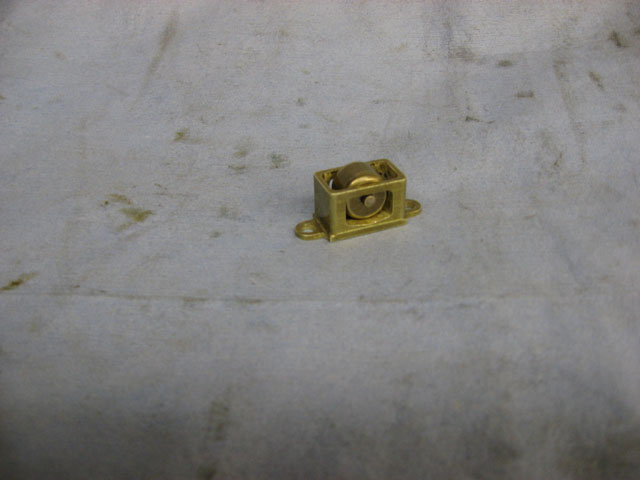 8) Bustler load test at 1500# failure point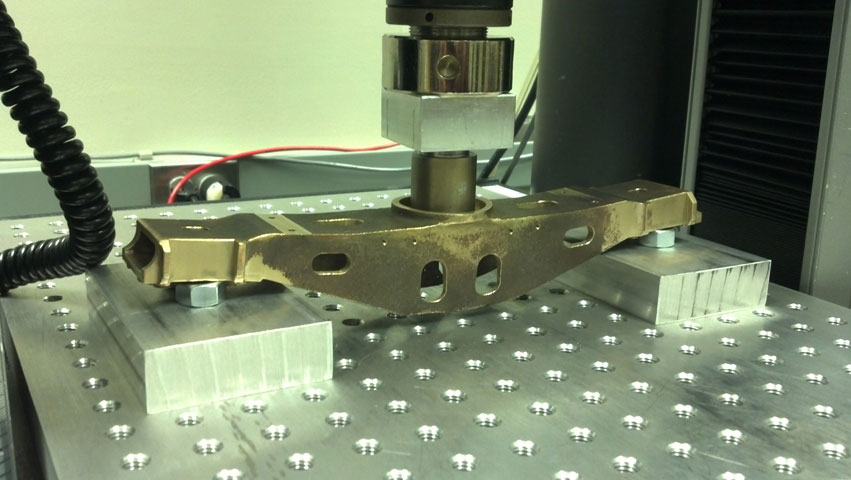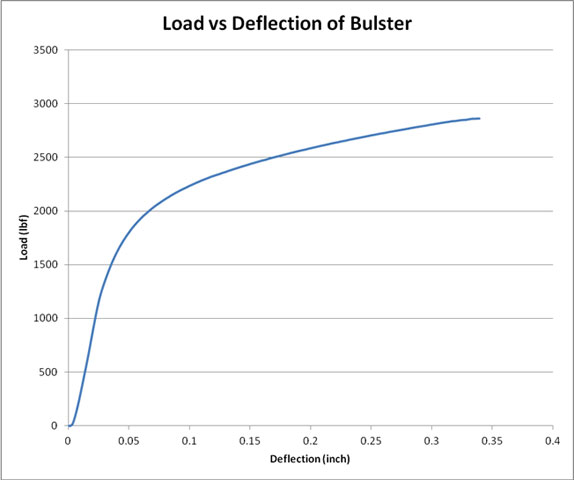 12)Track closed/occupied sign:$25
Clip on side for rail
Magnet on bottom for steaming bay track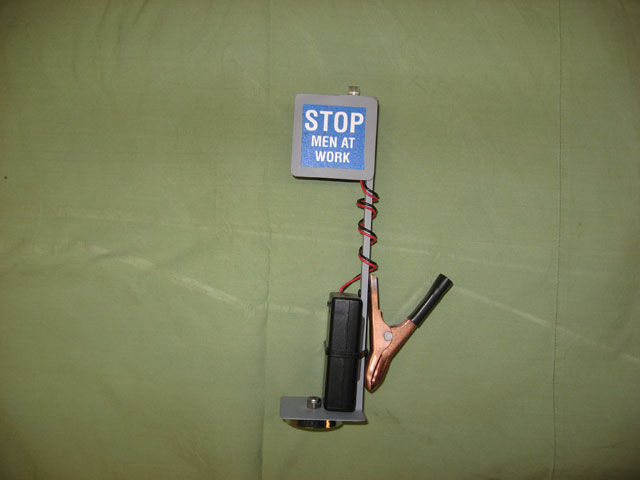 Contact: John Kelso email: jkel12@yahoo.com
3/21/2013
---
---
First sections of a Little Engines 7.5 scale 4-6-4 Hudson for sale. These are factory machined ,never been assembled and are in excellent condition.
You can call 307-399-0077 for more info.
Steve Wolff
---
---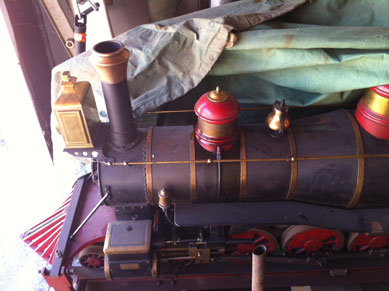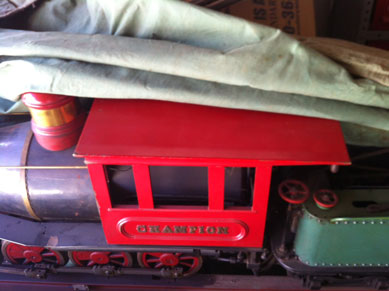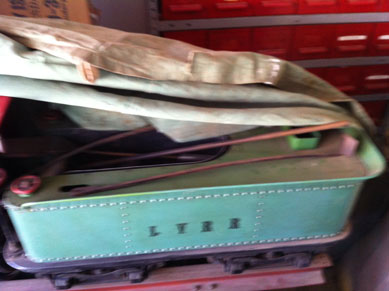 4-8-0 Lehigh Valley Champion which ran many hours there at the park. Selling the whole train, the support cart it sits on, a passenger car and caboose along with some track. Train is coal fired but has sat covered for many years. Plus some various train items he'd like to get rid of. He is asking $25,000 for everything.
Austin Knoff - 916-485-4070.
---
---
0-4-2 Plantation Engine 7.5" gauge
1 3/4" bore x 3" stroke, 7"dia. drivers, slide valves, presure 125 P.S. I
Boiler 6" ID steel, 3/8" copper tubes rolled in
Grate area 5 1/2" x 6" Propane fuel
Weight 405 lbs. full, 180 bls. front, 175 lbs. rear, 50 lbs. trailing truck
Length 53", Height 28", width 30"
Hydraulic brakes, Uses Gene Allen Mogul cylinders, Steel drivers tries shrunk on and can easily be regauged to 7 1/4" gauge.
See 1906 Locomotive Dictionary page 5 Fig. #10 for prototype builders photo of this locomotive.
Completed Oct. 1989 by Andy Clerici - Napa, California Tel: (707) 224-3735
Price $20,000 includes riding gondola with compartment for propane tank.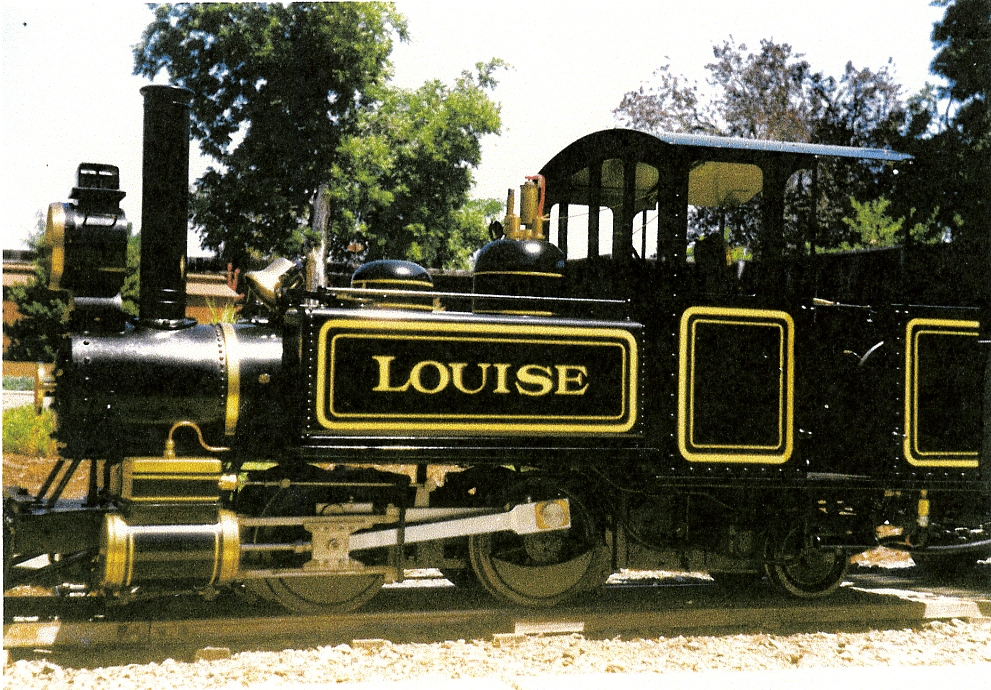 ---
---
Coal Fired 0-4-0
7.5" Gauge
1.5" Scale
2" Winton Cylinders
The oil burner had been removed and coal grates have been put in to return the locomotive to its "as built" condition.
The locomotive has been re-timed and has much more power now.
A complete mechanical review has been done to ensure everything is in proper order for a good sale.
*Photos taken two weeks before the larger oil tank was installed & the whole thing repainted and numbers added (#99)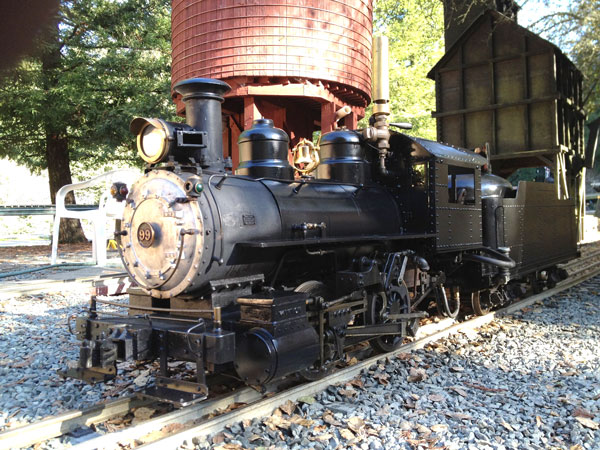 This locomotive was built by Mr. Terry Taylor in 1972. It features an axel pump and a hand pump. There is also the necessary plumbing for an injector. The locmotive is fired up on a regular basis at the Golden Gate Live Steamers. It holds about 10 gallons of water if I recall correctly. It was weighed in at just about 350 lbs. It has hauled the club public train with a total of 22 passengers on board. I am working on a leak in the dummy slide (actually piston valve) cover. It is the only mechanical issue with the locomotive. I am currently working on the leak, it is an easy fix. On other locomotives this has been fixed by replacing a gasket or just simply tightening loose bolts. The locomotive is very complete with detail. I have had this locomotive for 2 ½ years and it has been an interesting journey through the ups and downs of locomotive ownership. It's all part of the fun. I am selling my locomotive because I'm ready for a bit of change and I would like someone else to enjoy my locomotive as much as I did! All though people at my club noticed my irritation with the little issues that came along with the locomotive, many of them never noticed my emotional attatchment to my little 0-4-0. I want it to go to a good home and I hope it will bring the joy and educational value that the live steam hobby has to offer!
$12,000 OBO

David Waterman steamfreak22@gmail.com

4/2012
---
---
Track for sale.
I have 240 feet of 1 1/2 inch scale track: 6-10 foot lengths of track on ties; a right hand switch with a # 6 Frog; 12-10 foot lenghts of straight rails; 22-10 foot lenghts of curved rails. The track has some weathering but has never been used. I am asking $450 or Best Offer for everything. I live in Santa Rosa if anyone would like to see the track.

Orval Hansen
(707) 527-6416
Nov 2011.
---
---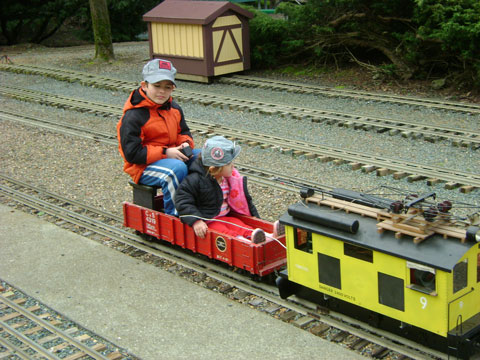 FOR SALE: 1" electric Colorado & Southern trolley, yellow, with panagraph, (w/rebuilt electrical system), hand held controller, runs great, has 2 batteries and disconnect, comes with a 1" scale red gondola car and a 1" scale red flat $2,000.00 for all 3 pieces or OBO (attached is a photo) Call Ken Carvalho 510-381-3527 or email morton.street@comcast.net pickup in Alameda.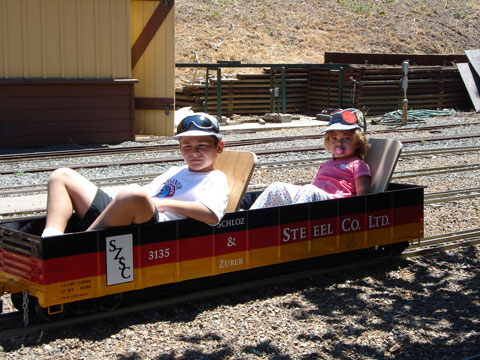 FOR SALE: 1 1/2 scale steel 72" gondola car with custom paint and decals "Schloz & Zuber Steel Co." (brand new) $1,200.00 or OBO (attached is a photo) Call Ken Carvalho 510-381-3527 or email morton.street@comcast.net pickup in Alameda.


FOR SALE: 2 each Engine storage racks (on casters), custom fabricated – accommodates both 1" and 1 1/2 scale equipment, 2 levels $600.00 each or OBO Call Ken Carvalho 510-381-3527 or email morton.street@comcast.net pickup in Alameda.

(4/11/2011)
---
---
FOR SALE: 1.6"scale, 7.5"ga Southern Pacific C-30 Caboose drawing package. Contents: 58 fabrication and assembly drawings (produced using autocad); 11 pages Assembly Procedures; 3 pages List of Materials, Suppliers, Detail items and Paint Specs.; 55 detail photos of prototype and 1.6" scale model caboose. The information contained in this package along with your skills will produce an excellent protoypically correct caboose. Price: $105.00.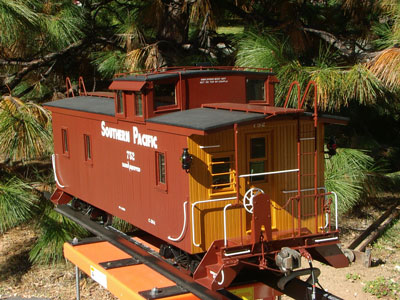 Model of caboose made from plans. (only plans are for sale)
Keith Jackman
636 Linden Ave.
Grass Valley, CA 95945
Ph: (530)272-8531
e-mail: 2jackmans@gmail.com
11/6/09
---
---

#1. Mechanical cylinder cocks for 1 to 4 inch cylinder. 1/8 NPT.
Four per set, $80 per set.

#2. Steam oil $10. per quart.

#3. 6 wheel common wealth passenger trucks for 7 1/4 or 7 1/2
gauge. $1200. Per pair.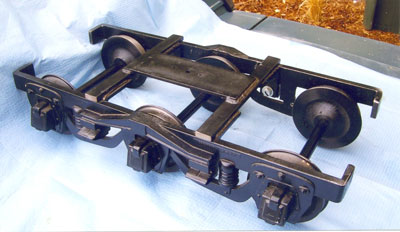 Ross Crawford 916-718-4162
10-21-2009
12-5-2008
10-2-2008

---
---
FOR SALE:
1.5" scale Pyle National extended case dual GYRALITE.
This is modeled and operates "True to scale" from the prototype and is constructed primarily of brass. It is often seen mounted on the front of high hood GP and SD series road engines and SW series switch engines. The only part extending through the hood of your loco would be its 2.5vdc power cable. "Extended case GYRALITE". Price $395.00 allow up to 5 weeks delivery.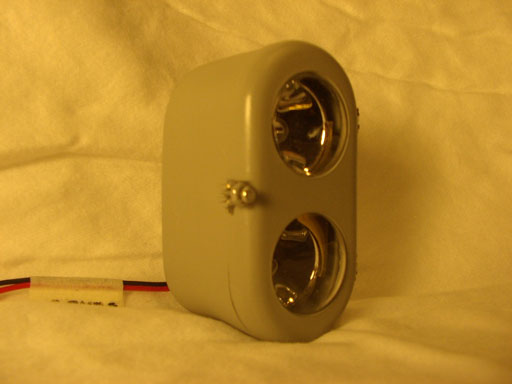 FOR SALE:
1.5" scale Pyle National flush mount dual GYRALITE.
Available with or without light shields.
This is modeled and operates "True to scale" from the prototype and is constructed primarily of brass. It is often seen mounted center over the front cab window. The light operates on 2.5vdc.
"Flush mount GYRALITE". Price $395.00 allow up to 5 weeks delivery.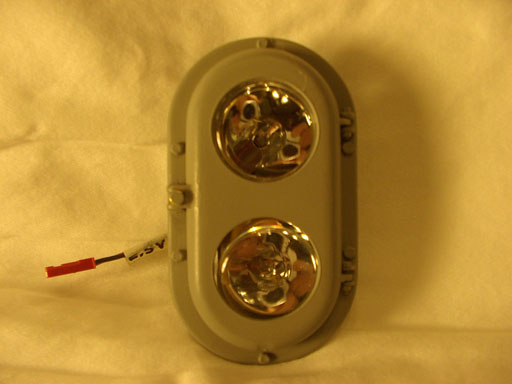 FOR SALE:
12vdc to 2.5vdc voltage regulator/reducer for GYRALITES. $30.00
Contact:
Keith Jackman
636 Linden Ave.
Grass Valley, CA 95945
Ph: (530)272-8531
kpjackman@sbcglobal.net